true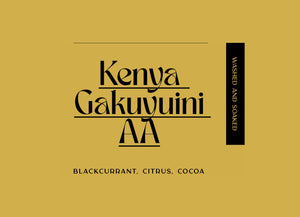 Gakuyuini washing station sits on the southern slopes of Mount Kenya, surrounded by fertile volcanic soils and plentiful high altitude.

Built in 1982
Gakuyuini is the only mill owned by the Thirikwa Farmers Cooperative Society, who are made up of 1500 members, most having 200-250 coffee trees.
The co-op's meticulous processing combines with perfect growing conditions and delivers outstanding flavour in the cup.
Our tasting notes: 
Wonderful blackcurrant and citrus acidity with hints of rich cocoa - everything we love about Kenyan coffee.
Farm: Thirikwa Farmers Co-op
Altitude: 1700 - 1900 MASL
Location: Ngariama, Kirinyaga
Variety: SL 28 and SL34
Harvest: September - January
Process: Two stage fermentation. Washed and soaked. Two-stage drying process.