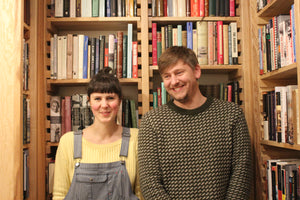 Books and Coffee ...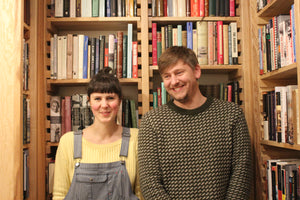 It's easy to see parallels between a good indy bookshop and your favourite independent cafe; both can be community hubs for like-minded souls. The bookish among us are often coffee lovers too, so it's not unusual to find bookshop and coffeeshop sharing the same space.
I'm building up to introducing Josh and Ellen of Green Ink Booksellers, who've been a part of our story here at Method Coffee Roasters. The first time we met, unsurprisingly, was over a coffee at one of our pop-ups in Hay-on-Wye. 
Josh and Ellen had recently relocated from Australia, where they'd had a second-hand bookshop. Moving from Melbourne with it's well established speciality coffee scene to the 'town of books', Hay-on-Wye, they were pretty excited to find our coffee stall at the Farmers Market - serving up flat whites just the way they liked them … 
After that first meeting it wasn't long before they became regular customers and friends and we couldn't have been happier to see them settle in Hay, bringing their own brand of intellectual recycling in the form of Green Ink Booksellers.
We Caught up with Josh for an insight into the world of the second hand bookseller.

Words by Josh ...
I was selling books for Blackwells in the UK when Ellen was visiting relatives in Australia; she'd seen a bookshop in Melbourne that was for sale and joked that we should buy it ...
It wasn't easy convincing the owner we were  serious; he pretty much tried everything he could to talk us out of buying his shop! Three months later I was sitting outside a Melbourne coffee shop enjoying the 25 degree heat and coming to terms with my new life as a second hand bookseller.
You don't need to love reading to be a bookseller, but it helps. Most bibliophiles just like being around books. 
I like to talk about books. I like to read books. I like to be around books. But perhaps what I like most is the treasure that you can find. You can't make second-hand books, you have to discover them and sometimes track them down.
No-one becomes a bookseller to get rich, but from time to time you do find some precious gems. Being an old book isn't enough, it has to be desirable too. If it's scarce, even better. We've had a few memorable finds over the years. I once got handed a pre-publication proof copy of the Fellowship of the Ring.
Second hand books can have a special identity. A bit like old records or films, books are often anchored to a time and place in a reader's life. Sometimes that means they treasure them; other times it means they need to let them go. A seller can often want their books to go to a good home, where they'll be appreciated and have a new lease of life.
Our regular customers are a bit different. Regular coffee shop customers may visit once a day, or perhaps more often than that. Regular customers at a secondhand bookshop like ours don't call in once a week or month; it's more likely to be an annual visit.
Personally I rarely buy new, but there are some publishers that I tend to keep an eye on. I've just finished Parnassus on Wheels by Christopher Morley; a novella from Melville House, a Brooklyn based publisher. Next on my list is Black Leopard, Red Wolf by Marlon James.
To find out more about Hay-on-Wye's newest secondhand bookshop visit Green Ink Booksellers