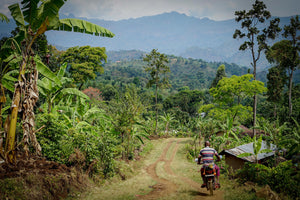 Origin Focus // Uganda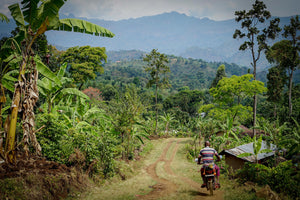 Incredible as it seems the last time we roasted a coffee from Uganda was back in 2014 - a washed lot from Great Lakes Coffee, who were based close to Mount Elgon. High altitudes, volcanic soil, frequent rainfall - there are perfect conditions in Eastern Uganda for growing coffee, but ... in the years in-between, although we've tried a few Ugandan samples, we couldn't find anything that lived up to the potential we knew this lesser-known coffee origin could deliver. 
That all changed earlier this year when we had the pleasure of hosting Dana and Shak from The Coffee Gardens. Having worked for several years with the United Nations on environmental and educational projects in Ethiopia and East Africa they both have long-standing interests in social and environmental projects in this part of the world. 
 In 2017 they moved to Uganda; at the same time Shak started studying at the London School of Economics. It was at the LSE that Shak met Michael Mugisha, a fellow student from Uganda. Alongside his studies Michael was also working in Ugandan coffee …
Meanwhile, Dana had just helped set-up a speciality coffee shop in Prague, while also trying to work directly with coffee farmers in Uganda, where she wanted to focus on organic agriculture, coffee quality and environmental conservation. Surprised by the limited amount of specialty Ugandan coffee on the international market, Dana started to try and understand why … 
Conversations between Dana, Shak and Michael eventually lead them to make a remarkable leap-of-faith - 'The Coffee Gardens' was born and before long they had secured a plot of land and started building their own washing station in Sironko district, Eastern Uganda … 
The plan was to address the challenging mountain conditions farmers faced by constructing their own washing station in a more accessible and warmer area near to the coffee growers who would be harvesting cherry.
Assisted by an engineer and a team of locals, they quickly built terraces, a fence, and what became the rest of the processing facilities. They also collaborated with companies to acquire quality processing equipment, including a Penagos pulping machine, solar dryers, and a solar-powered water filtration system. Next they implemented eco-friendly solutions like septic tanks, soak pits, and vetiver grass beds to manage wastewater and establish composting facilities for coffee pulp, aiming to produce organic fertilizer for their farmers.
The team at The Coffee Gardens are motivated by the improving coffee quality and the positive changes they've seen. By creating incentives to produce higher quality products the farmers are increasing their incomes. The goal: to create a thriving business that offers farmers a clear path out of poverty.
And the coffee? The results have been remarkable, the samples we tasted of the 2023 crop were fantastic examples of high-quality fruit-toned African cups, there were elements in the flavour profile akin classic Kenyan coffees but they also had their own distinct character.
It's been a while, but we're delighted to have Uganda back on the menu!