true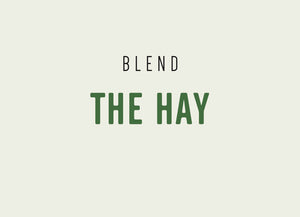 THE HAY ESPRESSO - 6 months subscription
Gift The Hay: Our signature espresso.
Full-bodied and chocolatey with good caramel sweetness and citrus notes; this is a well-balanced blend that works great with milk.
The Hay has a consistent taste profile throughout the year. A real crowd-pleaser, this coffee extracts a lovely crema and is one for espresso lovers and milk-based drink fans alike.
The Hay is an espresso blend that we originally developed to serve at our regular market stalls and at pop-ups at food festivals and events.
Each of the blend ingredients are roasted separately and then blended. It's a fairly traditional blend style based around a great coffee from Brazil and then augmented by other coffees designed to bring sweetness and some fruit to the espresso. Created using speciality coffees from fantastic farms which are roasted to deliver a rich and intense flavour that cuts through milk perfectly to create great lattes and flat whites. The blend works great as a straight-up espresso too.
Ideal for espresso or a more traditional filter or aeropress (lots of chocolate notes, good body and great sweetness).
We pour this every week at Hay-on-Wye's Farmers' market.