true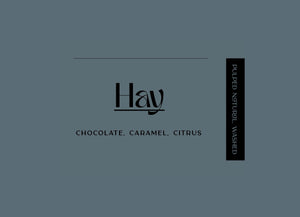 The Hay. Our original espresso blend.
Smooth and chocolatey, good caramel sweetness and citrus notes; a well-balanced blend that works great with milk.
The Hay has a consistent taste profile throughout the year. A real crowd-pleaser, this coffee extracts a lovely crema and is one for espresso lovers and milk-based drink fans alike.
In the days of our pop-up espresso bar we poured this coffee at Hay-on-Wye's Farmers' market.
'The Hay' comprises …
Villa, Brazil. This naturally processed coffee brings notes of chocolate, caramel and hazelnut with great body and balance and an orangey sweetness.
Viani, Colombia. Molasses, caramel and sweet mandarin combine in this medium bodied coffee that complements the Brazil perfectly. The coffee is sourced from a group of growers farming in the region of Cundinamarca, central Colombia.
El Beloya, Ethiopia – This is a sweet and balanced coffee from Kochere in Sidamo; Beloya adds chocolate and redcurrant notes for sweetness, complexity and balance.
The Blend is designed to be versatile, equally suited to black and milk-based drinks and fine-tuned for the evolving palate of the UK coffee drinker. Sweet, clean with a rich body and a viscous mouthfeel, it suits the tastes of both the independent coffee industry and the coffee drinking public. We recommend this coffee for anyone who enjoys a classic espresso.
Suggested recipe:
Dose: 18g
Extraction time: 28 - 32s
Yield: 36 - 40g
When brewed as espresso our recommended resting period (from roast date) is 14 days.
The Hay is an espresso blend that we originally developed to serve at our regular market stall in Hay-on-Wye; it was soon being sipped at pop-ups, food festivals and events all over the UK.
Each of the blend ingredients are roasted separately and then blended. It's a fairly traditional blend style based around a great coffee from Brazil and then augmented by other coffees designed to bring sweetness and fruit to the espresso. Created using speciality coffees from fantastic farms which are roasted to deliver a rich and intense flavour that cuts through milk perfectly to create great lattes and flat whites. The blend works great as a straight-up espresso too.
Ideal for espresso or a more traditional filter or aeropress (lots of chocolate notes, good body and great sweetness).