true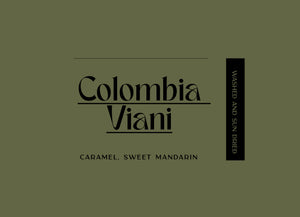 Producer -
Cooperativa Agropecuaria 
Region - Viani, Cundinamarca
Process - Washed
Varietal - Castillo, 
Colombia
Viani was Produced by a group of growers farming in the region of Cundinamarca, central Colombia - we're thrilled to be back here for a second season.
Vianí
takes it's name from the local word describing the highest peak of the surrounding mountain range - the 'golden summit'. 
Our tasting notes: Molasses, caramel and sweet mandarin combine perfectly with a bright acidity in this medium bodied coffee.
In Cundinamarca the mighty Magdalena river flows through the valley and the surrounding countryside has an incredibly diverse climate. 
Weather patterns can produce warm, temperate and cold conditions in close quarters. The resulting micro-climates provide multiple crop cycles and varied agriculture, the changing conditions allow the harvest of fresh-crop coffee throughout the year.