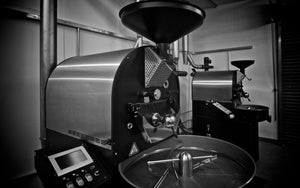 12 + 5 = 44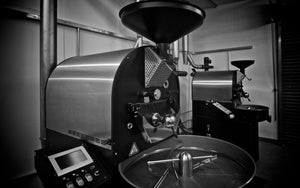 So, we moved the roastery...
About three months ago as it happens!!
Anyone who knows us or follows us on social media will have already heard the rumours … so I guess this counts as the official announcement!

It's true we haven't moved too far – it's probably just over 200 metres from unit 7 to unit 44! Our new space is well over twice the size of the old unit and starting out with a blank canvas gave us room to plan the layout the way we wanted it. We have added a dedicated room for training, as well as a cupping and QC area. Our new home has more storage space too, this sits alongside an improved packing and dispatch area. Oh … did we mention the roasters … ?

We're now using two roasters: our little 5 Kilo drum roaster has been joined by a brand new 12 Kilo P/2 Series Probat. Weighing in at over half a tonne, the more we get to know this big fella the more he has impressed us! With Probat's newly improved burner technology offering greater combustion efficiency and covering a wider area of the drum, we have seen improved temperature stability resulting in better roast consistency. The new burner technology is complemented with greater control through an improved touch-pad interface – we're feeling a lot of love for the new addition!
During March and April we spent a good few weeks test profiling on the new P12, we're now producing all our espresso components in the new roaster and using the 5 kilo Probat for smaller batches of coffee and filter roasts; this greater flexibility helps us to manage stock more effectively and ensures we only ever roast what we need, improving quality and freshness. Most weeks we now roast on Mondays, Tuesdays and Fridays.
A bit like us, the new roastery is still not the finished article, but we're really pleased with what we've achieved so far and there's room for further growth here too – we're really excited to take the next step in our journey.
Thanks to one and all for your continued support – Big Coffee Love People!