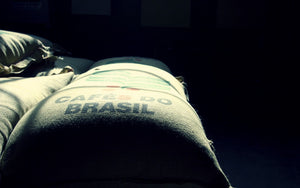 Fresh crop Brazils - speciality coffee from Minas Gerais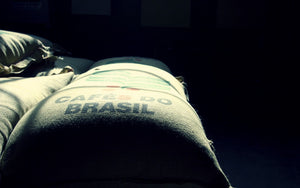 We have fresh crops Brazils!
With a history of coffee production that goes back nearly 300 years, Brazil has been the world's largest producer for over 150 years, currently producing at least one-third of the world's coffee.
Good quality Brazilian coffees have traditionally been low in acidity with a heavy body; these characteristics are often complemented with sweet, chocolate and nutty flavours. Today, due to advancements in sorting and processing, we are seeing a greater variety of flavours, including softer cups that have an intense sweetness in the form of caramel and chocolate, big bodies, and supporting complementary acidity. Well-processed naturals bring in a variety of red fruits to make these coffees really shine. All of this means that Brazilian coffees can be really great as single origin drinkers as well as continuing to play an important role in espresso blends.
Harvest
Harvest time in Brazil is between May and September and unlike some coffee producing countries there is only one crop a year. This means that between October last year, through to February of this year, we will have taken delivery of all of our Brazilian coffee.
These coffees will see us through to October or November – yes, our 2016 planning hats are firmly in place! As in previous years we have sourced from Minas Gerais in the southeast of Brazil: returning to Fazenda Ouro Verde, run by the Naimeg family, this is where we sourced our Ouro Verde pulped natural from in 2014 and 2015; we have also sourced from two other farms this year – read on to find out more!
Minas Gerais
All of our Brazilian coffee comes from Minas Gerais, in the southeast of the country. The state of Minas Gerais has some of the highest mountains in Brazil, providing good altitude for coffee. Minas Gerais is a huge state, inside which are several different departments: Sul de Minas, Matas de Minas, Pocos de Calda, Cerrado Mineiro. Within these different departments farms can be broadly divided into large single estates or smaller farms belonging to cooperatives.
The two producers we have sourced from this year are the Daterra Estate, farmed by Luis Paschoal, and the Naimeg group – a family owned group of farms headed up by Gerson Naimeg.
Daterra Estate
Daterra means "of the earth", and they truly are committed to sustainability, with 50% of this Rainforest Alliance Certified farm dedicated to nature reserves. In fact, Daterra was the first Rainforest Alliance Certified coffee farm in Brazil.
Owner Luís Norberto Paschoal is a coffee visionary who founded Daterra to raise the bar of coffee quality in a sustainable manner. With  this mission to innovate and continuously improve, Daterra have been Innovative from the start, engaging scientists, universities, tasters, traders, buyers and producers from across the world to help create the infrastructure for their working processes and methods.
Daterra began their investment in the land by rebuilding its natural flora and fauna, employing the highly reputable agriculture university Escola Superior de Agricultura Luiz de Queiroz (ESALQ) to trace the plant and animal life naturally native to the region. Together, Daterra and ESALQ created farmland to house both large-scale coffee production and its own crucial organic life, building 'wildlife corridors' to allow animals to roam freely and naturally repopulate the land. The process – now known as the PEA Certification – eventually became a highly involved programme of environmental accountability, created initially within Daterra and now present nationwide across Brazil to mark adequate protection of local wildlife.
The Estate also leads a charitable foundation for children and teenagers in Cerrado. Through their Educar Foundation, Daterra supports and develops literacy and schooling programmes for local children, offering scholarships, education initiatives, teacher and student workshops and provisions for schools.
Daterra is a new producer for us; with a reputation for innovation they seem to be consistently developing, experimenting and re-imagining farming methods, inventing new processes and leading truly trailblazing environmental protection programmes. Daterra have a standard benchmark of SCAA 84 points, and their work has contributed significantly to Brazilian coffee – we're excited to be able to use these coffees and plan to offer them as both single origins as well as using them in our espresso blend – they're super clean, sweet and perfect for espresso with full bodied character, low acidity and syrupy sweetness.
Fazenda Ouro Verde and Fazenda Londrina
Originally headed up by the late Gerson Naimeg, Ouro Verde and Londrina are both part of the Naimeg group of farms, and to tell their story we need to go back in time … more precisely, to August 17, 1938 when Gerson Naimeg was born in Conselheiro Pena, Minas Gerais.
The son of a German immigrant and a Brazilian mother, Gerson was still a young man when he moved with his family in search of opportunity to the north of Parana, because of the growth of coffee in the region. It was here in 1965 that Gerson planted his first crop on 5 acres.
Fast forward to 2016 and Gerson's six children have worked together, maintaining the history and success built by him – over fifty years of dedication to coffee. We're very proud to be working with coffees from two of Naimegs farms, these coffees offer pleasant mild acidity, excellent sweetness and good body and balance.