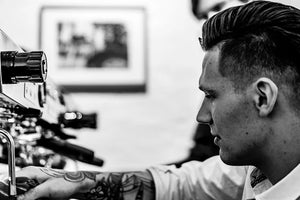 La Marzocco Forever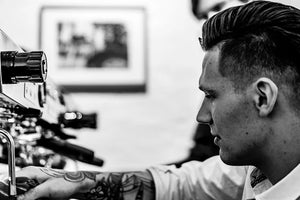 We've worked with La Marzocco since we started Method Coffee Roasters; we love their design values and exquisite attention to detail, you'll find their equipment in both our cafe and training facility. They're often the espresso machine that's most trusted by our wholesale partners too.  
A visit to the London showroom was a chance to catch up on new developments with the commercial and home machines we supply and service. Jacob from La Marzocco was the perfect host and the trip got us reflecting about the iconic workhorse of the specialty coffee shop scene ...
Founded in Florence in 1927 by Giuseppe Bambi, La Marzocco fittingly had its beginnings at the birthplace of the Italian Renaissance. Not forgetting their sleek, statement design, which wouldn't be out of place in a gallery, it's the working bones and guts of these machines which evidence their creators' passion and pride. Still bearing the brand of the seated lion with the crest of the Florentine Lily (synonymous with victory and triumph), La Marzocco continues to push forward in fighting spirit.
La Marzocco's worldwide reputation for quality and detail can, in part, be traced back to one of its biggest leaps in design in February 1939, when Bambi registered a patent for a machine with a horizontal boiler; the first of its kind. Previously, machines had been towering and cumbersome in build, with portafilters and steam arms protruding like the arms of a tyrannosaurus rex. Lying a boiler on its side allowed the linear arrangement of more group heads, providing a faster, more streamlined production line for baristas to keep up with an ever more coffee-thirsty Italian people.
Over ninety years after its formation, La Marzocco continue to hand-craft their machines in Florence with superb attention to detail. Today, founder Giuseppe Bambi's legacy lives on in exciting new offerings such as the KB90, an espresso machine housing several innovations worthy of genuine remark from any coffee professional for not only their thought, but sheer, blatant utility. It's rare to enter a speciality coffee shop and not see the gleaming angles and slick, deco-esque lettering that announce La Marzocco is in the house and your coffee is in good hands.
Named after Kent Bakke, former CEO, now Chairman of the Board, and celebrating 90 years, La Marzocco's KB90 boasts a few new features, the most notable of which is its 'straight-in' portafilter, and group heads featuring an automated steam flush system. Both innovations which have a genuine place in the modern speciality scene. With more precision and attention being paid to the individual espresso, the steam flush pushes water and steam through the group head following espresso extraction, thoroughly cleaning the shower screen of oil and coffee grinds.
The patented 'straight-in' portafilter offers a long-awaited alternative to the arduous motion required to lock in portafilters, improving the workflow of baristas in busy environments and reducing the risk of repetitive strain disorder (an issue baristas can experience in the wrist which also takes the pressure of tamping).
Featuring new sharp angles and sparkling presence as well as everything for which we've come to love the preceding Linea PB, the KB90 carries La Marzocco into the coming decade of exciting speciality coffee culture having set a new precedent for what an espresso machine should be. This is just one of the reasons why we continue to use and love La Marzocco every day at Method Coffee Roasters.
Pictured Above: The Linea Mini compresses the components of the commercial machines we use into a design that's capable of sitting on your kitchen counter.
Available in a range of colours, it also comes with a 6-month Method Coffee Roasters subscription to ensure you always have exceptional coffee close at hand. 
Available in our online shop.