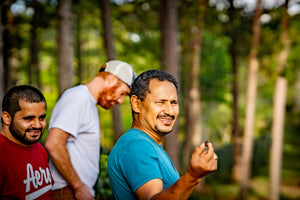 Origin Focus // Honduras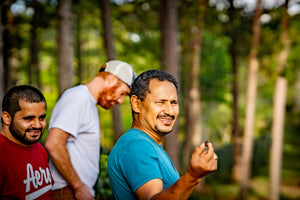 In March of this year we were lucky enough to visit Honduras and meet the amazing team at Aruco, a coffee co-operative based in Copan, on the western side of the country. Honduras is a relative newcomer to the speciality coffee scene, we wanted to find out more and connect with some of the producers there who are doing some incredible work to raise the profile of their coffees.
Travelling from El Salvador into Honduras we cross the border near Ocotepeque. Our driver, Raul, drops us at migration control. Raul works with Blue Harvest, an environmental charity we also connect with; he's been showing us how they focus on protecting and restoring water resources in the region. Blue Harvest's important work helps small scale coffee producers improve profitability through sustainability, they're doing some really innovative work across Central America. We arrange to meet up again in a few days, say our goodbyes and complete the final leg of the journey on foot.
With such an easy transition from El Salvador into Honduras (and Guatemala only around fifteen miles north from here) I'm reminded how arbitrary origin classifications of coffee can be. As if to underline the point, later that day we're told stories of Honduran coffee being smuggled across the border to be sold as Guatemalan coffee, which can sometimes attract a higher price.
Waiting on the other side of immigration is Donaldo Fiallos, the manager of Aruco. Over the next few days Donaldo will introduce us to several members of the Co-operative and we'll learn how these small scale coffee farmers are working hard to put Honduras on the speciality coffee map.
Honduras: the biggest coffee producer you've never heard of ?
As the largest producer of coffee in Central America, Honduras has been on our radar for several seasons now. As well as being responsible for an abundance of coffee (unlike most origins in the region) there's also potential for Honduras to increase their production further still.
One of the reasons Honduras has a relatively low profile is that the majority of coffees grown here are commodity grade, not Speciality Coffee.
At Method Coffee Roasters we're only ever interested in high-grade, super-tasty beans and we only ever source speciality grade coffees.
It turns out that while the majority of coffee in Honduras is commodity, there are also some truly fantastic lots coming from this part of Central America, these hidden gems are well worth seeking out.
Why are coffees from Honduras less well known in the speciality coffee scene?
Some of the challenges of producing real quality here are weather related. Overall, growing conditions in Honduras are very good, but farmers are faced with the problems caused by relatively high levels of rainfall, causing some difficulties with the drying process and to a lesser degree storage of parchment coffee. These issues can lead to inconsistencies in quality and also cause the flavours and characteristics in a coffee to fade more quickly over time. The good news is the situation is changing and we've noticed an increase in quality year-on-year in the samples we've been receiving from recent harvests. The best coffees from Honduras have layered and complex tropical fruit flavours and a wonderful acidity.
Where is coffee grown in Honduras?
The Instituto Hondureno del Cafe (IHCAFE) is the national coffee Institute of Honduras, it defines six regions of coffee production in the country: Agate, Comayagua, Copan, El Paraiso, Montecillos and Opalaca.
Introducing Aruco
Bordering Guatemala, on the westerns side of Honduras, is the coffee growing region of Copan. Over the past few seasons we've been in contact with a group of farmers from this area, these coffee growers are all members of the Aruco Co-op.
Based in and around the town of Corquin, Aruco are a small cooperative, named after the river that runs through the settlement. The co-operative was formed in 2010 by a group of farmers who were frustrated with the lack of support and representation they were receiving. These growers wanted to market their coffee more directly - in order to cut out middle-men and get fair recognition for their hard work. 
Fast forward to 2022: Aruco now has hundreds of members covering the whole region of Copán, but most are still concentrated around the town of Corquin. The cooperative provides support and financial assistance to their members and offers the option of selling coffee in dry parchment, semi-dry parchment or cherry. They have a full wet mill, patios as well as drying beds in solar tents.
Having tasted samples from Aruco for the past couple of seasons we knew they had a quality focus along with excellent support for small-scale producers and a desire to improve quality and innovate. Amongst the co-operative there are also several farmers who are dedicated to micro-lot production.
With an array of microclimates, Honduras allows for a diverse range of cup profiles. There's a history of organic production, which is true to terroir and more sustainable, and there are still plenty of pure Arabica varieties grown. Crucially, Honduras has a great number of smallholder producers who can really benefit from the price premiums that speciality coffees bring. 
Over the next few days we visit several farmers in the area with Donaldo and his team and cup the full range of coffees from Copan. It's obvious that the co-opertive plays a crucial role in the community here and in many ways the members are like one big family.
The team at Aruco are working incredibly hard to create some very special coffees here and I leave feeling motivated to help them spread the word on coffees from Honduras. It's not only the flavour in the cup that matters; knowing by whom and how that coffee was produced also makes a difference.
Click here to learn more about our first coffee from Honduras.