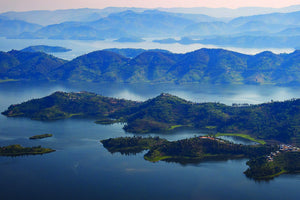 Sunshine in a bag …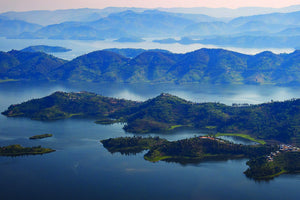 Summertime brews at the roastery always involve tasting plenty of freshly landed African coffees; from late spring through the summer months our East African lots start to land and bring with them bags of fruit flavours alongside some of the more delicate tea-like notes that regions like Yirgacheffe in Ethiopia are famous for. 
Sourcing exclusive and specialist lots from smaller farms means our coffee menu changes regularly. Selecting fresh-crop coffees over the course of a year we follow harvests around the equator; moving from country to country as farmers in different parts of the world crop their coffee in different months.
Depending on the conditions in a given year there are sometimes a few weeks in the summer when we'll be lucky enough to have stock of a full range of East African lots. This year the coffee gods have smiled on us and (for a short time at least) the shelf is full of African coffees; a great excuse to take a closer look!
Coffees from this part of the world are well known for their incredibly complex flavour profiles, bringing added sweetness and acidity to many espresso blends, and also making incredibly refined single origin brews. On the Coffee Tasting Wheel they tend to occupy the floral/fruit section of the spectrum, with flavours ranging from jasmine to lemon to blackcurrant. In the main, as single origin coffees, they are best enjoyed black. There are exceptions, especially if you're brewing a fruity natural as an espresso - give me a Guji flat white any time of the day!
We tend to revisit the producing regions in Ethiopia, Kenya and Rwanda for our African selection each year, carry on reading to find out more …
Ethiopia
Where do we start? It had to be the birthplace of coffee, the original and probably the best -  Ethiopia!
Coffee in Ethiopia has been used as a food and drink for hundreds, if not thousands of years.
When we talk about Ethiopian Coffee we are always referring to Arabica coffee; a forest plant that originally grew wild in the Ethiopian highlands and some parts of neighbouring Southern Sudan. 
Referred to locally as buna or bunna, coffee drinking is a part of every day life here, with around half of all the coffee produced in Ethiopia staying in Ethiopia - to be drunk by Ethiopians. Luckily, some of the beautiful beans make their way out and we always make sure to source a few lots from this incredible origin.
The majority of the coffee produced in East Africa will be washed in channels by hand and then dried on African raised beds. This process means the coffees generally have higher levels of acidity, tasting incredibly 'clean' in the cup with distinct nuances of flavour.
Ethiopia is also a well known coffee origin for using the natural process to create outstanding flavour profiles that really do have to be tasted to be believed. Ethiopian natural coffees tend to have intense floral notes and aromas of ripe strawberry and blueberries.
Sounds like your jam? Click below to find out more about  this year's coffee from the  Guji Highlands.
Kenya
When you have Ethiopia as a neighbour you know your coffee has to be pretty special to get noticed! Full of delicious fruit notes with bags of sweetness and plenty of acidity - Kenyan coffees don't disappoint.
With the distinctive SL28 and 34 coffee cultivars, that are only really grown in Kenya, this origin has some of the world's finest arabica. Central Kenya produces the majority of the best coffees, particularly on the fertile land surrounding Mount Kenya.
It's perhaps the processing in Kenya that helps their coffees pop on the flavour scale; coffees are twice-fermented, twice-washed, soaked and then twice-dried. With meticulous processing methods, expert milling, and careful packaging to preserve flavour, coffee production in Kenya is well developed and the auction system there rewards quality too. 
Traceability in Kenya to single estate coffee is excellent. Where coffee comes from smaller producers, the traceability can be limited to the washing station: with processing in Kenya playing such a key role in the quality of the coffee, these individual washing stations can build their own reputations for quality and there are some stations that we return to over several seasons for just this reason.
Our first Kenyan coffee of the season is from Kii washing station. Kii is in an area where they do more tea than coffee but the quality here is superb. Click below to find out more about this lot.
Rwanda
Often referred to as the land of a thousand hills Rwanda is a truly high altitude destination. The Rusizi river flows at around 950 metres above sea level, it's incredible to think this is as low as you can go in Rwanda! Coffee is farmed at between 1200 and 2100 metres above sea level. 
The diverse range of flavour profiles reflect the varied and different growing regions and there are plenty of areas where conditions for coffee cultivation are very good. Rwanda has distinct wet and dry seasons and average temperatures from 15℃ - 28℃. In the cup, we look for blackcurrant, black grapes and dark cherries - plenty of wine-like characteristics.
Farmers typically have fairly small parcels of land, coffee growers will group together to form co-operatives which are generally named after the washing station that processes the cherries delivered by these groups of smallholders. Similar to Kenya, the washing station will use their specially trained staff to process the coffee in a consistent and uniform manner. 
Coffee has been a pillar of the Rwandan economy since the 1930s but in recent years the coffee industry was severely threatened by the global coffee price drop in the 1990s, followed by the Rwandan Civil War which left the country broken and vital coffee infrastructure destroyed.
Rwanda has made a truly remarkable comeback and is now known as a powerhouse of Africa; it's very well organised with minimal crime and corruption compared to many other countries in the region - a huge benefit for the coffee industry. Government reforms have made it easier to sell coffee and projects run by NGOs have had a huge impact on the way producers manage traceability making this small but mighty country a very important speciality coffee origin.
We always have a selection of African coffees available - click below to find out more!