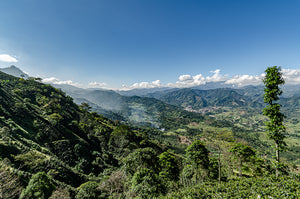 Following the Andes // Harvest in Colombia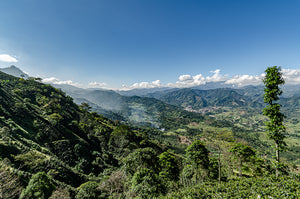 Forming a continuous highland along the western side of South America the Andes are the longest continental mountain range in the world. Working our way up from the southern tip of the continent we can trace their path through Argentina and Chile, Bolivia and Peru and finally onto Ecuador, Colombia and Venezuela.
In Colombia there's an incredibly varied geography that combines with the ever-present Andes to create a myriad of beautiful micro-climates. This variety means that as well as producing excellent coffee all year round, Colombia offers one of the most diverse ranges in cup profile to come from a single country - it's a treasure trove of flavours and one of our favourite origins. 
Over the course of a season we will usually share at least two or three different Colombian coffees on our menu. As I write this we have a washed coffee from the South of the country 'Narino', named after the area where it was grown. 
Narino is a coastal region and while the altitudes, varietals and processes used are similar to the neighbouring regions of Huila and Cauca there can be a marked difference in cup profile. Here it's the Pacific that plays a part too; the ocean has a huge impact on the climate of the area. The hot days and cool nights help create a perfect environment for high quality coffee, allowing the cherry to ripen slowly, adding complexity and sweetness. Coffees from this Southern region often display flavour notes of apples and berries; whereas in neighbouring Huila we tend to find more citric profiles. 
As the year progresses, the harvests move further north; next month sees the arrival into the roastery of a lot from Cafe Granja La Esperenza's award winning farm in Valle Del Cauca, one of the central growing areas in Colombia. This area is one of the most fertile in the country, the river Cauca running between two Andean mountain ranges.
Looking further forward to May we will have coffees from the lesser-known Antioquia, a region close to our heart where we have travelled to and sourced from since 2017. We will be working with Co-op Andes and Falcon Speciality here again; this northern region has made great strides forward in quality and we look forward to the sweet stone fruit and rich and heavy bodies we've enjoyed from Antioquia coffees in past seasons.
The main photo and the one above were both taken during a sourcing trip in Antioquia; Read more here
Ready to drink some Colombian coffee?
Check out our latest beans here